The main building of the Greek office furniture company

Sato

, a work by

Dimitris Potiropoulos and Liana Potiropoulou

(
in association with Gousis & Frijda architects)
, is an impressive example of deconstruction architecture in Attica.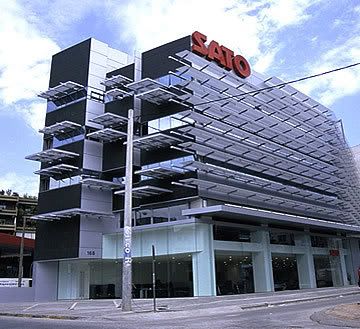 The random geometry of the lot, which has a narrow front on Kifissias Ave and continues back from there in a crooked line, affected the architectural solution. Thus, the metal volume of the building curves along the line of the lot and meets Kifissias Ave on an angle. The façade intersected by Kifissias is emphasised by being faced with black unpolished granite. The shade panels that protect the south and west side from the sun are deployed along the linear vertical grid of the building. On this grid are also metal forms that jut out at random and are suspended over the street.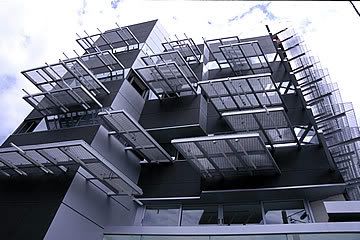 The Sato office building – in its particular location – offered an opportunity to develop more dynamic ideas about buildings in relation to the typical Cartesian building forms and level façades that flank this particular thoroughfare.
sources:
http://www.culture2000.tee.gr/ATHENS/ENGLISH/BUILDINGS/BUILD_TEXTS/B172_t.html
http://www.potiropoulos.gr/typology.html
http://www.gfa.gr/Projects/all-old-projects-en.htm