Kaningos 21 hotel
is located on the northwest corner of Kaningos Square in the centre of Athens. The existing hotel was constructed in1965 and underwent a structural reinforcement and aesthetic refurbishing in 2004 by
META architects.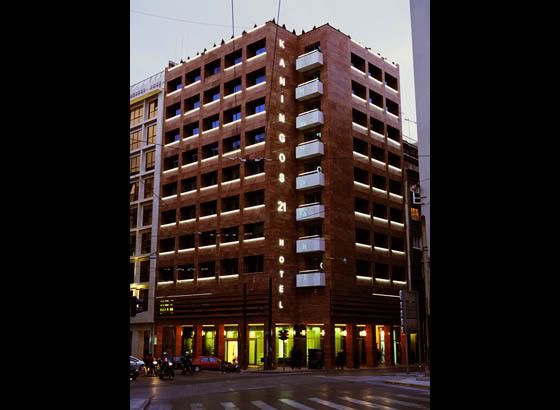 Seventy-two rooms
on
7 stories
occupy the spaces between the double height lobby with mezzanine hosting a reception, cafe, restaurant and congress halls and the roof with its bar-restaurant offering views to Lycabettus Hill and the Acropolis.
A vanilla marble from Leivadia and a warm beige marble from Ritsona are used for the reception area and the mezzanine restaurant. The same combination of materials is applied in all the corridors for the room levels. The elevators are cladded in translucent glass panels. All the bedrooms have wooden floors and plasterboard walls. The bathrooms a combination of white Kozani marble and grey Aliveri marble. The curtain wall facade employs a dramatic red limestone, "Travertino Rosso'.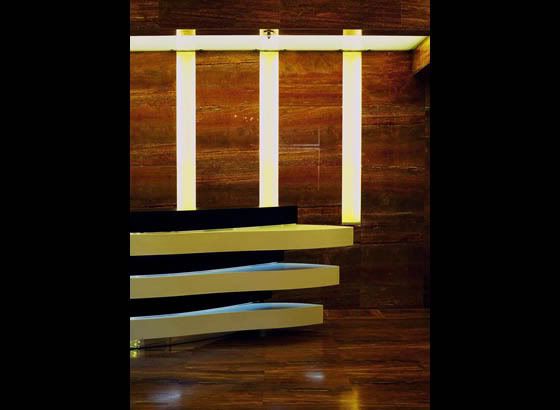 The architectural approach to this project is sculptural. The thick columns and repetitive, recessed openings giving the impression that the building has been carved out of a mass of stone. These large openings establish a relationship between each room-cell and the city outside, especially the rooms with views along the axis of the Acadimias Str.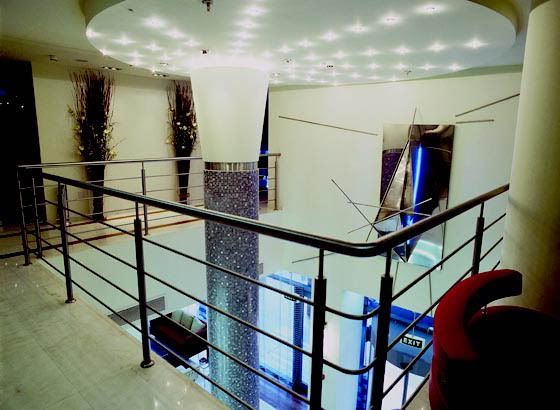 The overall density celebrates the square, marking one of its corners in red. Similarly, the implementation of a light study creates an icon of the building at night.


sources:
http://www.kaningos21.gr/
http://www.meta-arch.gr/pages/shops/set_en.htm