Motor oil
is one of the largest oil refineries in Greece and the owner of the company (Vardinoyannis) one of the most influential industrialists. The luxurious headquarters of the company are situated in
Marousi
. They occupy a total ground surface of
2.360 sq.m
.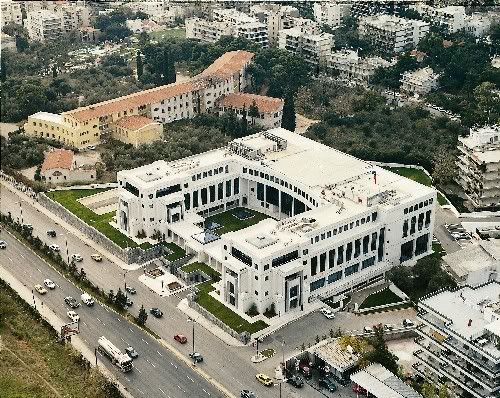 The building has 2 underground levels for parking space, a middle floor for entrance and owners parking. There are also 4 floors for office space in a Π shape so as to create an open atrium with green and skylights. On the top of the building there exists a heliport. Τhe facade and the interior of the building are covered with marbles.
Τhe construction of the building was completed during
1994
and the architect was the famous (and recently departed)
Iason Rizos
. The construction cost reached
15.000.000€
.
Sources:
http://www.moh.gr
http://www.bioter.gr
http://www.rizos-architects.gr/