The new
Athens Planetarium
is the proud offspring of the
Eugenides Foundation
, and the successor of the old Planetarium (the first in Greece, built around 1966). The building was delivered in the end of 2003, and at this time it was considered to have the most advanced equipment all over the world.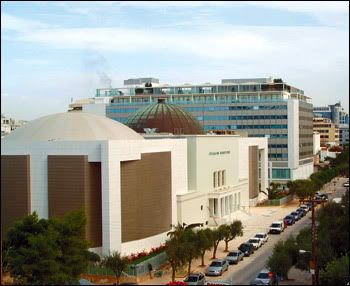 The central dome of the building has a diameter of 25 m and a total surface of 950 sq.m.
The planetarium has 280 seats equipped with interactive controls. The total area of the auditorium is
1450 sq.m
. There are 3.000 shows and an amazing number of
600.000 visitors
every year.
The equipment of the planetarium is quite impressive:
-6.1 Surround Sound
-40.000 Watt through 44 sound boxes in7 clusters
-2 Virtual Reality Emulators (3D SkyVision)
-1 Astral Projector (Digital Sky)
-12 video projectors for the emulators
-3 video projector of special effects
-3 pan-tilt platforms
-48 projectors of special effects
-Special Moon-Sun-Planet video projectors
-Laser krypton
-11.700 LEDs
The final phase of the construction was assigned to
J&P Avax
Sources:
http://www.eugenfound.edu.gr
http://www.jp-avax.gr/Default.aspx?cat=3⊂=40&sub2=79&ItemID=243